Have you ever felt a change in your mood while being kept inside all day without any views to the outside world? Well don't think you are crazy because its a natural human instinct!  When we interact with the natural environment it allows us to feel the sense of relaxation and refreshes our mood. Nature is in a leading role in our society with the "Green Movement" that seems to be spreading throughout the world. It began with growing more produce locally and eating organic, and carried over into the wave of sustainable products that are being offered. But how do you bring nature into your interior environment to give you the sense of serenity you desire?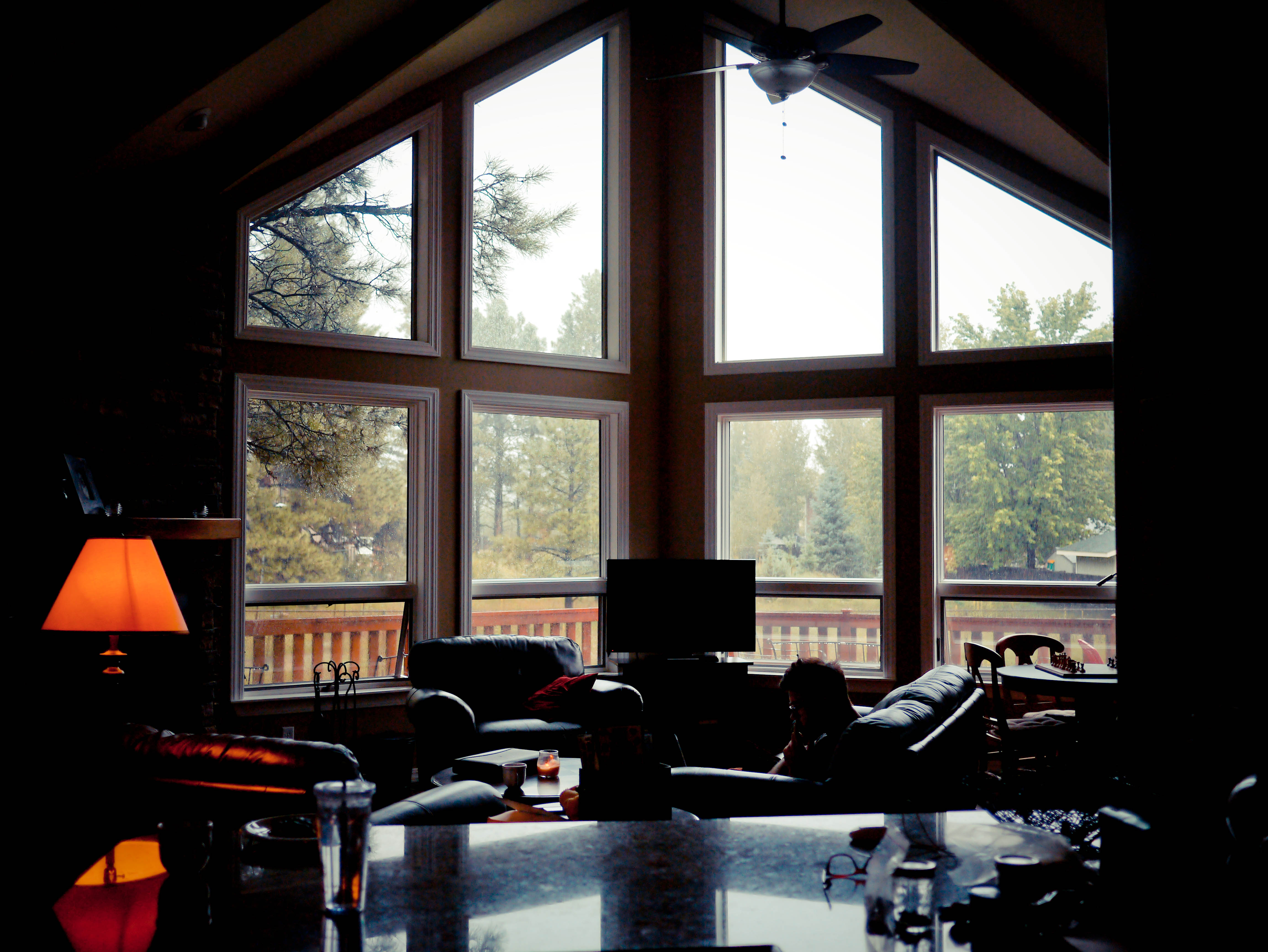 One of the first things you can do is to open up your views to the outside world with windows. Here in Flagstaff we are surrounded by the beautiful Coconino National Forest that sweeps the smell of  the pine trees throughout the city and creates amazing views.  Residential homes often have picture windows so they can see what surrounds them and allows for a intimate view of nature itself.
Another way to bring nature in is by incorporating natural visual elements that reflect items from the outside world. Bringing in live plants into a space can create a relaxing feeling and provide extra oxygen into the home. If you are not a green thumb you can always use artificial plants, which over the years have come a long way in looking more realistic. A simple and artistic way of bringing nature in is by selecting fabrics that have a print that mimics items in nature such as flowers, succulents and trees. Another visual element would be to integrate the use of wood. Wood is a strong element that can be included in furniture (shown above) or can be as simple as a piece of drift wood as an accent on a table.
A final way to bring nature into your home is with giving back to the environment with sustainable materials.  When doing a remodel or a new build,  it is important to remember that major companies now give the option of a natural products. These products not only sustain the life of your design but also sustain your human life itself.  Many materials now have restriction on chemical processes and off gassing allowing the occupant of the home to live a more green lifestyle.
Here at the design center we strive to help the planet by offering a variety of  "green" products that you can incorporate into your home (see above pictures). We offer a variety of lines in flooring, for example Kraus carpet has its Blue Planet line that is made from recycled product and is indoor air quality certified.  Stone Creations countertops have their Eco line by Consentino, this product is made from recycled materials  and comes in a variety of colors.  Cabinets by Sun Ray offer companies  that are KCMA members that help the industry use good environmental practices. Our friendly staff would be more then happy to help you in choosing these products for your next project.  Come in and see us today!