Have no fear, R2X is here! – Resistance times two 
The fear of stained carpet is definitely surreal, but lets face it, accidents happen. You could hide the stain with a beautiful rug and forget about it, but what if I told you that you could have carpet in your home that actually resists stains? Instead of fighting stains with hard chemicals and intense scrubbing, you could easily remove a spill with minimum effort.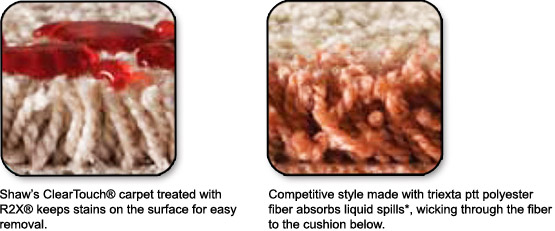 Shaw carpets are treated with R2X, which is a top of the line stain and soil resistant treatment. R2X is applied all throughout the carpet fibers, so when accidents happen liquid stains are kept on the surface of the carpet for easier cleanup as well as protecting the sub floor from any moisture or mildew.  Fascinating, right?
Shaw carpets that are treated with R2X come in a large selection of styles.  From texture to patterned styles, you will be able to select a color and style that is just right for you and your home! R2X treated carpet is a great carpet for homes that have high traffic, kids and pets. If you live in a household full of excitement, yet prone to accidents, then R2X is without a doubt your best carpet selection!